C. M. Sperberg-McQueen
Initial description 8 June 2018, last rev. 11 June 2018
This document describes the use of the TinyMCE editor for mixed content in the TLRR project's XForms-based editing interface for trial records. It was written to record and document the way various components interact, some of the technical issues faced along the way, and our (current) solutions to those technical issues.
The document is addressed to those seeking to understand how to use the TinyMCE plugin for XSLTForms in the context of a more complex larger form. Readers not familiar with XForms in general, and XSLTForms and TinyMCE in particular, are unlikely to find the document compelling reading.
Background
This section identifies some background information relevant to the use of Tiny MCE inthe TLRR project. It should probably be expanded a bit; at the moment, it's rather terse.
The project
The TLRR-2 project is preparing a second edition of the work Trials in the Late Roman Republic, 149 BC to 50 BC, originally published in book form in 1990 by Michael C. Alexander.
The second edition is being prepared in XML, and the principal editing interface for the distributed team collaborating on the new edition is supplied by XForms.
XSLTForms
TLRR currently uses XSLTForms, an implementation of XForms by Alain Couthures of AgenceXML. XSLTForms uses in-browser support for XSLT to transform an document written in XHTML + XForms into a pure HTML document which loads a Javascript library to handle user interactions with the form. All the code supporting our XForms thus executes in the user's browser. This reduces load on our server, but has the disadvantage that bugs in browser support for relevant standards, and breaking changes in browser interfaces, can cause problems.
Dexter and the mixed-content problem
TLRR's records of trials exhibit a mixture of highly structured and tightly constrained data with much more loosely constrained information. All trial descriptions are readily divisible divisible into a consistent sequence of fields, but even when the information in a given field (e.g. date) is mostly fairly straightforward (a year), there will be numerous exceptions with a slighly more complex structure (e.g. a terminus ad quem or terminus a quo), and a few with an extremely complex structure. The value to be assigned to any field may be complely unknown, conjectured, uncertain, probable, or certain (for some suitably cautious definition of certainty).
So any given field may exhibit a range of structures, from simple and predictable to a short paragraph in academic prose, with footnotes.
In consequence, editing mixed content is an absolute requirement for the project.
There has been discussion in the structured-markup community for decades concerning the best way to enable users who are not expert in structured markup to edit structured data; answers have included SGML and XML editors, training the users (so they cease to be inexpert), customizations of SGML and XML editors, and so on.
So far, TLRR has focused on trying to solve the problem using XForms. For editing the structure of a trial record, XForms has proven (we believe) quite suitable. For editing the text of paragraphs, footnotes, and other mixed content, we continue to look for good solutions. Our trial editor is called Dexter; we have experimented, and continue to experiment, with different techniques for editing mixed content, which are used as loadable subforms within Dexter.
We have developed a number of ways to edit mixed content within an XForm; several of them possess, we believe, a certain technical interest and ingenuity. But none of them make it easy for the historians in the project to edit the footnote to a description of the date of a trial.
Pointer should be provided pointing to the publicly visible version of Dexter. And that publicly visible version should be brought up to date.
TinyMCE
TinyMCE (MCE = 'mixed-content editor') is one of a large number of Javascript libraries which provide HTML editing in a browser environment.
Like other similar tools (including CKEditor), TinyMCE can be used as an editing control in XSLTForms, as a short demo on the AgenceXML website illustrates.
Project-specific issues
These issues may not be relevant outside the TLRR context.
Shifting between XML and ampersand-escaped serialized XML
Since when we read and write trial records in communication with the server, they need to be in normal XML, not in an ampersand-escaped XML serialization, we will need to translate any element into ampersand-escaped form before editing it with TinyMCE.
We already have code to do this, for the Ianua interface (which presents the user with a text area containing raw-bits XML, angle brackets and all).
Details to be supplied.
Binding elements to types
The elements we wish to be able to edit with TinyMCE, like charge and date and p, are not in the normal course of events represented as ampersand-escaped XML. It would be inaccurate, therefore, to bind those elements to the simple types defined for customizing TinyMCE.
But if the elements are not bound to a suitable type, TinyMCE is not invoked.
The solution we are currently trying works like this:
When the editor is triggered on a target element E, we serialize (the contents of) E into a dummy element named frob (for 'frobnicated'), in a secondary document instance.
We then copy the frob element into the main document instance as the child of E.
The text-area widget refers to E but to its child E/frob.
The model uses an xf:bind element to bind E/frob to a suitable type.
On deactivation of the editor, the results returned will need to be de-frobnicated and used to re-populate E in the usual way.
This differs from the existing pattern for frobnication in inserting a distinct element for the frobnicated content, which can be bound to a distinctive type. That might be worth doing for the elements that currently use serialization and Goldfarb Normal Form.
How many types?
Which elements do we wish to be able to edit with TinyMCE, and how do their content models currently differ?
The form currently embeds the mixed-content control (which offers editing with our different tools for mixed-content editing: Lacrimae, Ianua, and now Humilis) for the following elements:
NB
date
ccGrp/*/* (i.e. procedure, court, en, p)
other/p
outcome
description/p
Mixed-content editing is also offered for parts of name lists (in RE-namelist-ianua.xml):
person-entry
source
bibref
The content models are these. The parameter entity links expands to trialref | procedure | person | court | ptr; the parameter entity hyperlinks expands to %links; | ref. The ref and ptr elements are conventional generic hyperlinks in the style of their TEI counterparts. The other links are, as their names suggest, specialized pointers to specific kinds of things.
(#PCDATA | br | en | i | ix | %links;)* = %misc-value (for outcome)
(#PCDATA | en | i | %hyperlinks; | sup )* = %bibl-data (for source, bibref)
(#PCDATA | en | i | ix | %links;)* = %single-value (for NB and date)
(#PCDATA | en | i | %links;)* = person-entry:
(#PCDATA | en | i | %links; | sup | span)* = p
(#PCDATA) = court, procedure:
(p | list)+ = en
Styling the elements within TinyMCE
to be supplied
Validation
to be supplied
Miscellaneous notes, errors, problems, and gotchas
This section presents an unsystematic list of things that can go wrong, and what the apparent cause was, when they went wrong in efforts to use TinyMCE in this project.
Version incompatibilities
At the time this paragraph is written (June 2018), the most recent major version of XSLTForms is xsltforms-1.0 (647), which includes versions 4.5.2 and 4.7.1 of TinyMCE; the most recent release of TinyMCE is 4.7.13, which does not work.
The symptom is that the widget loads but the text area is blank.
It is not clear which release of TinyMCE is the most recent one that works with XSLTForms 1.0, or what broke between 4.7.1 and 4.7.13.
Some trivial but irritating errors
There are a variety of other things one can do wrong in trying to set up an XForm to use TinyMCE. Some of them are trivial but nonetheless irritating and time consuming. A partial list of things one can do wrong follows.
Botch the link to the Javascript

The TinyMCE distribution package wraps the file tinymce.min.js in directory js/tinymce; the versions include with XForms use a shallower directory tree. When switching from one to the other, it's easy to produce a bad link, e.g. .../scripts/tinymce_4.7.n/tinymce.min.js instead of .../scripts/tinymce_4.7.n/js/tinymce/tinymce.min.js or vice versa.

When this happens, an attempt to load the form produces an XSLTForms Loading ... message which never goes away.

Botch the namespace declarations.

The error message "Schema for namespace unknown (prefix:tlrr) not defined for type f-single-value" indicates a problem with the binding of the element we want to edit to the indicated type.

It does not, however, mean that the schema was not loaded, at least not in the form indicated. The key words here are "namespace unknown (prefix:tlrr)", which suggest a namespace prefix-binding issue.

The namespace prefix should be bound both in the main form and in the subform. (Even though the error does not arise when the subform is run as a stand-alone form and lacks any binding for the prefix. This makes no sense to me.)
Open problems
This section reports on currently unresolved issues. When an issue here is resolved, relevant information should be added above. (Issues listed here but marked Resolved are have been left here for the moment, awaiting the editorial work needed to identify the crucial points and rework the text above.)
How to position cursor?
Currently (12 June 2018), editing with TinyMCE works more or less well for text already present in the document. But if one wishes to add (for example) new text after a tagged phrase at the end of a paragraph, it is difficult (or impossible) to position the cursor there.
As is sometimes the case, it's difficult in a markup-free interface to distinguish between positioning the cursor before and after a given tag.
Question: would providing explicit ::after pseudo-elements for every element make it easier?
Tagging selection without breaking the paragraph
Currently (12 June 2018), selecting a phrase and clicking the button to tag it as a particular kind of element seems invariably to introduce a paragraph break after the new element.
TinyMCE in XSLTForms appears very slow
Currently (12 June 2018), TinyMCE reacts very very slowly to each keystroke; it is easy to get several characters ahead.
The form behaves as if I had set incremental="true", even after I explicitly flagged incremental="false" on the textarea widget used for TinyMCE.
Undesirable cursor movement
Currently (11 June 2018), the cursor moves to the beginning of a containing element, or the beginning of the TinyMCE editing window, pretty much after every keystroke.
For example: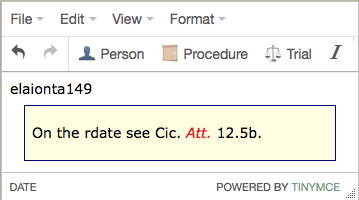 the note in the date field of trial 1 (ZAA) reads "On the date see Cic. Att. 12.5b." When the user opens the TinyMCE widget to edit the date field, positions the cursor before the word "date", and types "rationale" (as the first step in changing the text to read "On the rationale for this dating ..."), the result is that the r remains before the word date and the rest of the word is placed in mostly reversed order at the beginning of the date field.
Some of the toy examples exhibit the same behavior, others not.
agencexml.tinymce.xml appears to hang while loading and displays no editable widget. (Presumably error in adjusting to local context.) When I click reload repeatedly, it eventually shows up. Typing works as expected and desired within the first paragraph, but when one tries to make a second paragraph, typing behaves anomalously. The version on the AgenceXML web site (r626) never shows loading complete, even when it appears complete. Typing works as desired, as do new paragraphs.
tinymce.xhtml works as desired.
xsltforms.ext-sch.xhtml exhibits the odd cursor-resetting behavior.
xsltforms.userexit.xhtml works as desired.
xsltforms.userexit2.xhtml works as desired.
Question: Is the external schema the only difference here?
Question: Is this independent of TinyMCE versions, or version-dependent?
Saving fails
Resolved.
Currently (11 June 2018), the TinyMCE subform appears to be loading and displaying the element being edited in accordance with the CSS provided: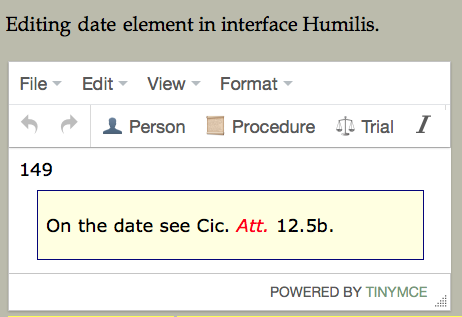 .
However, attempts to save the result of TinyMCE editing fail. Clicking the Done editing date (Humilis) button has no visible effect.
Insertion of messages in the relevant action sequence shows that the sequence was failing on <xf:delete context="instance('buffers')/frob/node()"/>. Things improve when this is replaced with <xf:setvalue ref="instance('buffers')/frob" value=" '' "/> The value should always be a string in any case, so setvalue is not wrong.
Parsing the serialized-XML string fails with a "Cannot parse XML" message, on the action <xf:setnode ref="." inner="instance('buffers')/frob"/>:
Further diagnostics suggest that the intermediate buffer is not being updated successfully, so that what is presented to the setnode element is an empty string.
Switching to the instruction <xf:setvalue ref="instance('buffers')/frob" value="string(context()/frob)"/> resolves the problem.
Content is unstyled
Solved.
Currently (11 June 2018), the content of the date element is not being styled as specified in tlrr-tinymce.css. Is this because the stylesheet is not being loaded? Or because TinyMCE is not seeing the elements?
Diagnosis: Under Resources, the browser's developer tool shows that tlrr-tinymce.css has been loaded. (It's hidden as a sub-item under edit.sh for reasons I don't understand.) So it's not that the stylesheet is not loading.
Diagnosis: Under Elements, the browser's developer tool shows that TinyMCE appears within an iframe containing an HTML document. The body of that document should contain the date element being edited, but instead it shows as containing just a p whose contents are the string value of the date element.
Content is unparsed
Solved.
Currently (11 June 2018), the content of the date element is not being parsed correctly (or at all) by TinyMCE.
Diagnosis: xf:setnode with a value constructed in the following way does not work.

      <xf:setnode ref="." inner="concat('<frob>',
				     string(instance('buffers')/frob),
				     '</frob>')" />
    
Instead use

	  <xf:delete ref="./child::node()"/>
	  <xf:insert context="." origin="instance('buffers')/frob"/>
    
Q. Would setnode work with a different value?